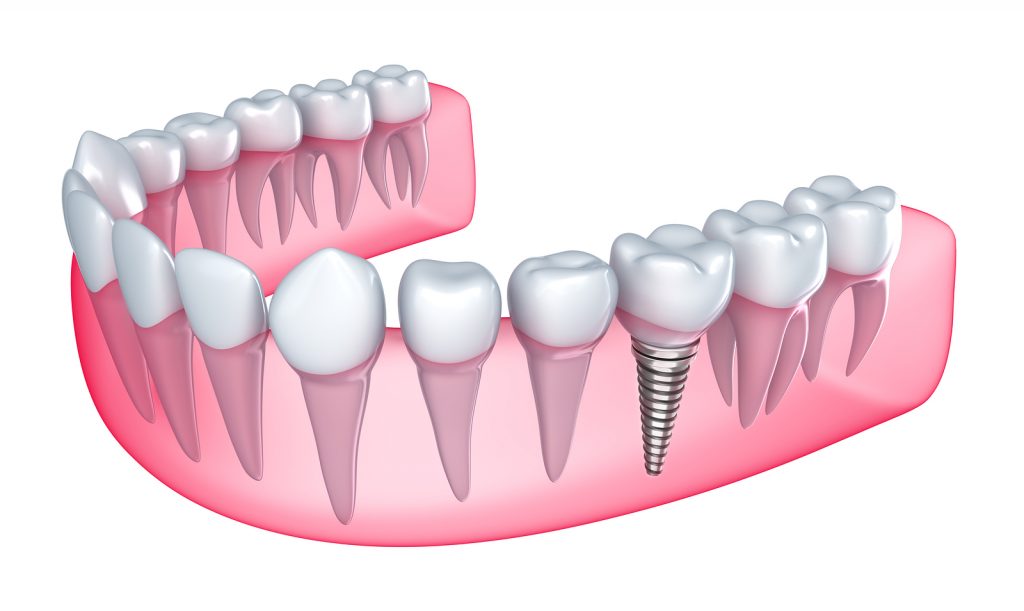 A dental implant is a titanium screw that is surgically inserted into the bone of the jaw or skull to support a dental crown, bridge or denture.
Ideally, the titanium forms a very strong bond with the surrounding bone, and the implant essentially acts like the root of a natural tooth. This resemblance to normal tooth anatomy makes implants the gold standard for replacing a missing tooth (or a series of missing teeth).
Broadly, there are only two types of dental implants: conventional and immediate. The main difference is that with conventional implants, they are allowed to heal for three to six months before being loaded with a prosthesis, while immediate implants are loaded literally in the same visit as the implant is placed.
Immediate dental implants are an attractive option, but they are not suitable for everybody. The main determining factors for eligibility are bone density (more is better) and whether multiple implants are being placed and splinted together.
In fact, bone density is so important to the success of dental implants, that bone-grafting surgery may be required prior to placement of an implant, to increase bone density.
At Core Dental Group, our team includes a Specialist Periodontist, but we also work closely with Oral & Maxillofacial Surgeons, so you can be sure you're getting the highest quality care.
How much do dental implants cost?
The price of dental implants is dependent on a number of variables, for example, whether or not bone-grafting surgery is required, how many implants are being placed and how they are being finished (with a crown, a bridge, or a denture).
Other factors, such as the level of qualifications of the clinician who performs the procedure and their preference for manufacturer of the implant componentry, will also play a part.
If you're interested in dental implants, Core Dental Group offer free consultations* for the purpose of answering your questions and providing a written quote, detailing dental item numbers (important if you have private health insurance with extras cover) and their associated costs.
While a consultation (and investigations in the form of x-rays and/or an OPG) is essential to obtain a quote, as an approximate guide, an indicative dental implant cost is provided here:
Item number 243 – osseous graft – AKA bone grafting – (per tooth or implant) from $350.
Item number 688 – insert of single stage endosseous implant (per implant) $1,930 – 2,210.
Item number 661 – fitting of abutment implant from $800.
Item number 672 – full crown on implant – approximately $1,400 – $1,600.
For a full discussion of tooth replacement options, and a more accurate estimate of dental implants costs in your particular case, contact Core Dental today for assessment with our Periodontist.
* Free consultations are subject to appointment availability and patient eligibility, please contact your local Core Dental Group practice on 13 13 16 for further information.