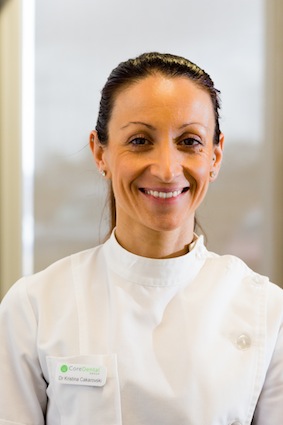 Core Dental are proud of the passionate professionals who take care of your teeth. Highly qualified and committed to your comfort, our team are a varied and fascinating bunch.
Through our staff Q&A you can get an insight into the people who keep your smile looking fresh and perfect.
An insight into Kristina Cakarovski – Principal Dentist at Core Dental Wyndham
When did you start with Core Dental?
I started at Core Dental in May 2013.
What training did you do to get to this point in your career?
I completed a Bachelor of Biomedical Science with Honours and then went on to study a Bachelor of Dentistry with Honours.
What do you love about working with Core Dental?
The amazing and truly dedicated staff, which make every day at work a pleasure, as well as our wonderful high-tech facilities that ensure our patients are receiving the best possible dental care in a relaxed environment.
What does your ideal day off entail?
I'm a bit of a fitness and nutrition freak, so usually my day off entails a couple of gym sessions, scouring the markets for fresh and tasty produce, and lots of food prep for the week ahead.
What is your top tip for teeth that you've learned during your time in dentistry?
The importance of daily flossing to prevent cavities and not rinsing out your toothpaste after brushing.
You can find Kristina at Core Dental Wyndham.