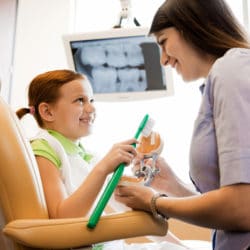 Giving children a great start
When we talk about first dental visits, it could be your first visit as a new patient or the first visit for your child. So let's start with your child.
The most common question asked by parents is "When should I bring my child in for their first visit?"
Children's baby teeth are developed below the gum line even before they are born. So that the development of your child's emerging teeth and facial bone structure can be monitored, their first dental visit should be between one and two years of age.
We believe it's a good idea to take your child with you to your dental appointments as early as possible, so they become familiar with the surroundings. Often, when they see you having your teeth examined, they'll want theirs done too!
A first visit for a child will usually involve a quick visual survey of their teeth and gums to check that they are coming through straight and are healthy. This examination will usually  take only five to 10 minutes.
We're an adult-friendly dental practice, too!
Your first visit to Core Dental Group will probably involve more talking than examining. We will do all we can to ensure that you feel relaxed and comfortable at our practice. This will allow us to get a full understanding of your previous dental treatment history. We will then listen to any concerns you may have and answer any questions on dental procedures you may be considering – such as teeth whitening, dental veneers or dental implants.
Next we will examine your teeth and gums and will generally take X-rays to see if there are any underlying problems.
If you have any questions, or would like to book an appointment, please contact us.