All your at-home and in-chair professional teeth whitening options explained.
Teeth Whitening is one of Core Dental's most popular treatments. We offer two options for whiter teeth: In-Chair teeth whitening, for immediate results; and At-Home whitening, for a more gradual result.
Another benefit is more pronounced results. Dentists have access to the most sophisticated equipment and the highest concentrations of active ingredients in whitening preparations and processes, and they use shade guides and photography to document whitening outcomes.
The Effectiveness of Teeth Whitening
Teeth whitening involves breaking down the discolouration so that your teeth look whiter. Whether the process will work for you depends largely on the cause of your discolouration. Each whitening method has a different degree of effectiveness and permanency. Your dentist will advise you on the degree of whitening and the process that is best for your teeth and more likely to give you the results you are seeking.
It's also important to note that the results will not be the same for everyone, as everyone's teeth are different. Some people might find they are able to achieve a whiteness that's several shades brighter that their existing tooth colour, while others may only achieve one to two shades whiter.
Given the different causes of discolouration, it is important to have your dentist thoroughly assess your dental health to determine whether teeth whitening will be an effective treatment for you.
Before any whitening process, we also recommend that patients have their teeth cleaned by a hygienist to remove any plaque build-up and ensure the best results.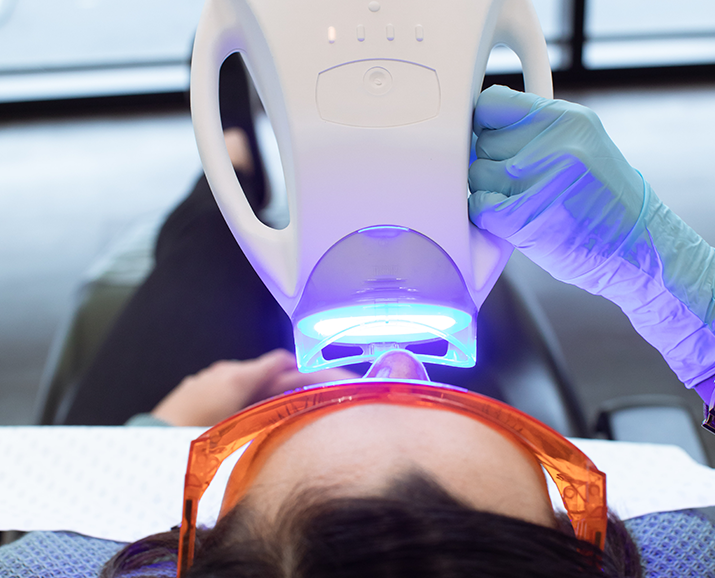 The procedure for in-chair whitening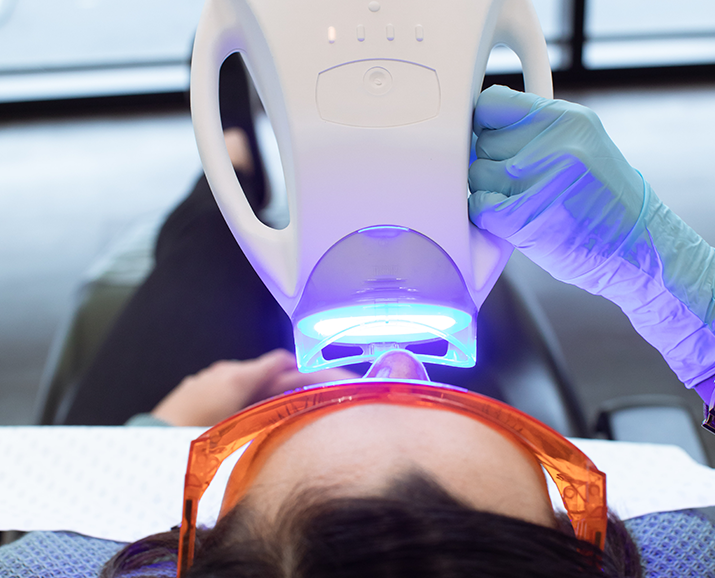 In-Chair whitening is the most convenient and fastest process – it lasts about 90 minutes. We use the latest technology, from Philips Zoom! WhiteSpeed for this procedure.
We take three important steps to ensure you get the best possible results from this procedure.
We start with a brief checkup to ascertain whether Zoom! teeth whitening will be a safe and effective option for you. In most cases it is.
Then we protect your gums and apply the patented whitening gel to your teeth.
Finally, we use the Zoom! WhiteSpeed blue LED lamp to activate the gel, causing the whitening effect.
Depending on the individual, your teeth could be up to 8 shades whiter, and stains and discolouration removed or reduced.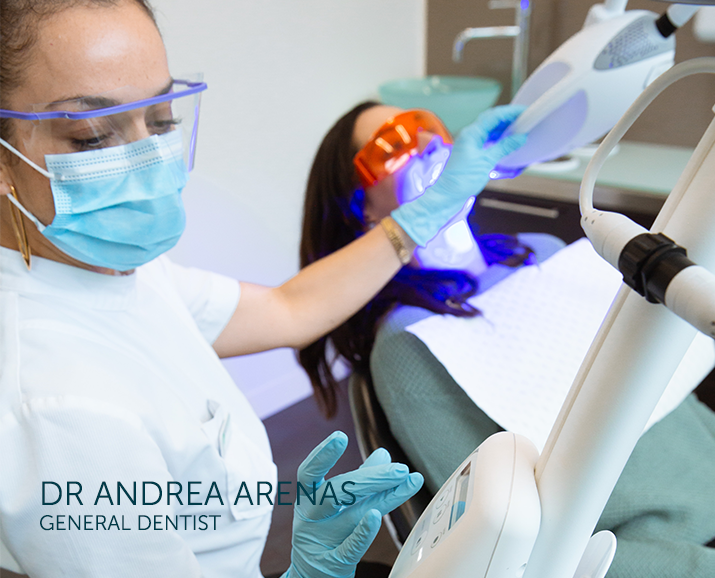 The procedure for at-home whitening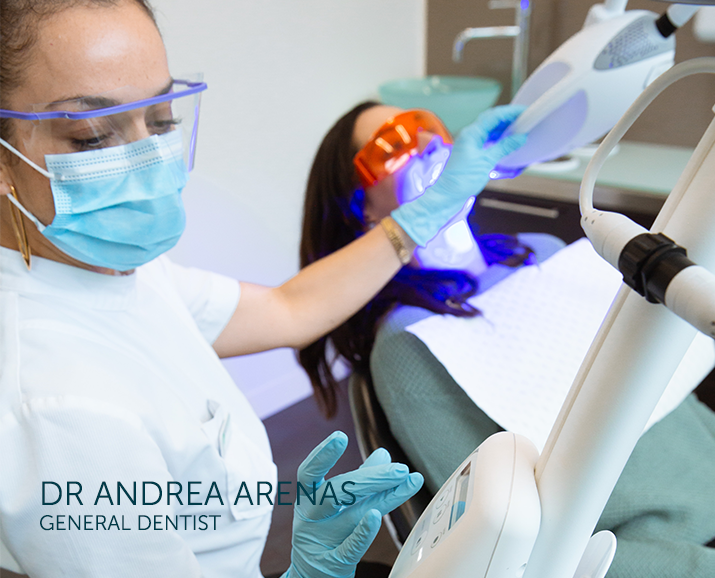 At-Home whitening is a more affordable option and allows you to control the degree of whitening. We use Pola Day and Pola Night Teeth Whitening Systems. You can re-use the trays to repeat the process if the effect wears off over time.
We take a mould of your teeth and build custom trays – one each for the upper and lower arches.
A week later, your trays are supplied along with whitening gel, desensitising gel and detailed instructions for use.
You routinely apply the whitening gel to your teeth via the trays until you've achieved the results you want.
The benefit of home whitening is that you are in control of the degree of whitening, plus it can be repeated if the effect wears off over time. It is also more affordable than Zoom! treatment.
Frequently Asked Questions
There are two types of tooth discolouration: extrinsic and intrinsic.
Extrinsic discolouration – that is, staining confined to the enamel – is most commonly caused by age, diet and poor oral hygiene. As we age, our tooth enamel can thin and start to reveal the yellow dentin beneath. In addition, diet and poor oral hygiene can cause our tooth enamel to stain, especially if our diet is high in sugars and acidic food and if we don't maintain good oral hygiene. Teeth whitening treatment is most effective in removing this kind of staining.
Intrinsic discolouration – that is, discolouration of the inner structure of the tooth – can be the result of trauma. This could include impact to the tooth when you were a child, such as a fall that damaged the developing permanent tooth; or trauma that involved internal bleeding, which discoloured the permanent tooth. Intrinsic staining usually requires additional dental treatment to achieve whitening.
Not everyone's teeth are suitable for whitening. We recommend having a check up with your dentist in advance. This can be scheduled at the time of your teeth clean, so your dentist can assess for sensitivity, tooth decay, existing restorations, gum disease and any oral conditions that could hinder the effectiveness of the teeth whitening procedure. If you have veneers, crowns or fillings, they will not change colour with whitening, which means you can be left with different-coloured teeth.
Teeth whitening is generally safe when used in the correct way. One of the biggest risks associated with teeth whitening arises when it is applied incorrectly or by someone who is not properly qualified.
Because a bleaching agent is involved, some of the side effects of teeth whitening can include damage to the gums, tooth sensitivity and irritation, and possibly bleeding in the oesophagus and stomach if the bleach is swallowed.
Sensitivity from teeth whitening usually only lasts a day or two. Patients with receding gums, cracks in their teeth or failing restorations (which can result in leaking) are the most likely to experience sensitivity. Gum irritation can arise as a result of contact between the whitening agent and your gums.
Safety. Dentists operate in a highly regulated environment. Their detailed understanding of teeth whitening treatments minimises the likelihood of side-effects or complications.
More pronounced results. Dentists have access to the most sophisticated equipment and the highest concentrations of active ingredients in whitening preparations and processes. They use shade guides and photography to document whitening outcomes.
Availability. At Core Dental, we're open six days a week, with extended trading hours so you can book an appointment for when it suits you.
Affordability. Core Dental offers very competitive prices and payment options over 3 months for teeth whitening. To find out more, please contact us.