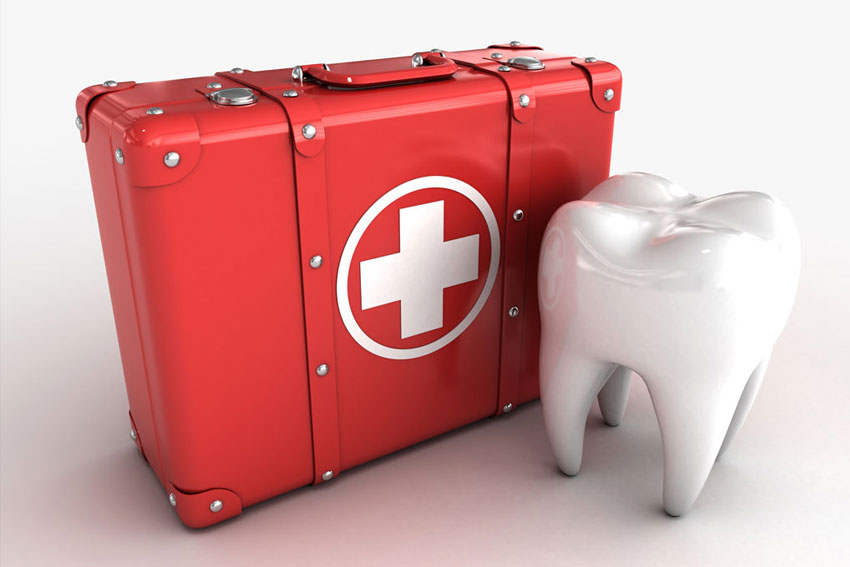 Here at Core Dental we understand that a dental emergency can not only be painful, but extremely stressful too.
However, our friendly and experienced dentists are on hand to alleviate your suffering.
With any dental emergency, the sooner we see you, the more effectively we can resolve the problem, at the same time increasing the chances of saving your tooth (or teeth) and hopefully reducing the need for extensive or more costly treatment later on.
There are various types of dental emergencies, such as:
Pain of any kind from your tooth, gum or jaw
Swelling – of the gums, face, jaw, eye and/or throat
Loose or lost crown or crown/bridge
Chipped tooth or filling
Knocked out (avulsed) tooth
Bleeding
Injury of any kind to your teeth or face.
Types of dental emergency
In each instance, you should seek dental treatment as soon as possible after having taken the steps described. 
Toothache
Place a cold compress on your cheek against the site of the toothache. This should reduce any swelling. Take a medication such as paracetamol or Ibuprofen (available over the counter) to help with pain relief.
Chipped tooth or filling, or lost crown
If a crown becomes loose or you have lost a crown, retrieve the crown and bring it with you to your emergency consultation.
In the case of a lost filling or broken tooth, there is a risk that the tooth might fracture further, increasing your pain. Hence the need to seek dental treatment promptly.
Knocked-out tooth
A knocked-out tooth is a common dental emergency.
If it is a baby tooth that has been knocked out, do not try to replant it back into the socket; instead bring it with you to your emergency consultation.
If an adult tooth has been knocked out, pick it up by the crown only (white part of the tooth that is visible in the mouth) trying not to touch the root. If the tooth is dirty, rinse it with either milk or saline (not water).
Ideally the tooth needs to placed back into the socket within an hour of the injury having taken place.
If the tooth cannot be replanted, follow these steps until you can bring the tooth to your emergency consultation:
Place the tooth in a glass of milk or saline. Never use water as it can damage the root.
If milk or saline is unavailable to you, place the tooth inside your mouth between your gum and your cheek (an alternative is to place the tooth in a container with some of your saliva).
Abscess and swelling
A dental abscess is a pus-filled swelling caused by an infection inside your teeth or gums.
The infection can be very painful and may also cause your face to swell. If untreated, the infection can spread to other parts of the body and can be extremely serious.
In the short term, a cold compress may be applied to the swelling and an over-the counter anti-inflammatory/analgesic such as Ibuprofen may help provide some pain relief, as might paracetamol.
Oral infections can recur, hence the need to seek prompt dental treatment.
Jaw pain
If you are experiencing any jaw pain or difficulty eating or opening your mouth, over-the-counter medications such as paracetamol or ibuprofen, plus a cold compress, may bring relief in the short-term only.
Dental or medical assistance is imperative.
Bleeding (from injuries to your lips, cheek or gums)
Any bleeding should be dealt with by applying pressure to the site of the bleed with either gauze or a clean handkerchief.
If the bleeding doesn't stop within 10 minutes, seek immediate medical or dental attention.
Dr Tina Ledger
General DentistBDS (Hons) (UK)