Interest Free Dental Payment Plans for All Your General, Cosmetic and Specialist Dental Needs
What is Openpay?
Openpay is a dental payment plan that allows patients to pay off their treatment in fortnightly installments. There are three types of treatment plan available.
Treatment plans up to $1,000, $4,000 & $9,000
3, 10 or 15 month term
Interest Free – 0% interest
Easy fortnightly payments
Simple application process at our practice
Low establishment fee
Calculate your estimated repayments here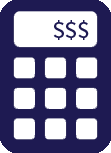 Openpay can be used for treatment plans up to $9,000 so whether you require extractions, crowns, teeth whitening, root canal or veneers, Core Dental and Openpay have you covered.
To sign up all you need is an Australian driver's licence (or other photo ID showing address), a MasterCard, Visa debit or credit card, two contact phone numbers and an email address.
Available at all our Core Dental locations, Openpay requires a 20% deposit prior to treatment commencing with the remaining fee spread over 3 months for amounts up to $1,000, 10 months for amounts up to $4,000 and 15 months for amounts up to $9,000.