Your child is in good hands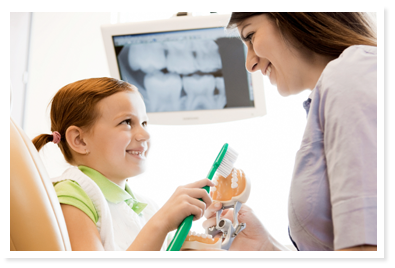 At Core Dental Group we understand every parent wants their child's first visit to the dentist to be a positive experience – one that will make dental care a regular practice for the rest of your child's life.
We have gone to great lengths to make our practices child-friendly, with gentle, caring clinicians equipped to provide children's dentistry and a variety of games and entertainment. The goal is for your child to have so much fun they may not even realise they're learning how to care for their teeth at home!
We are also proud to offer the services of a registered specialist paediatric dentist as well. We can manage the full spectrum of kids' cases – from basic to highly complex and everything in between – all at your local Core Dental practice.
We recommend routine checkups for children as the most effective way to maintain healthy teeth and gums and to reduce the risk of toothache. Checkups would normally be combined with professional cleaning a little later, from the early teenage years onwards.
What's the best age for a first visit?
We recommend bringing children for their first dental appointment at two years of age.
This gives them the chance to get used to the dentist, take a ride in the chair and open wide (like a crocodile!).
At Core Dental Group we make the experience fun for kids by using a variety of instructional toys and games. The idea is to involve them in the whole process and to let them have a good time while they learn how to look after their teeth and gums.
At their first visit all kids receive a showbag containing a Spiderman or Barbie toothbrush, Colgate "My first" toothpaste and stickers. We prefer to avoid treatment at this session, unless absolutely necessary.
Child Dental Benefit Schedule
Core Dental Group is pleased to treat families eligible for the Child Dental Benefits Schedual.
The Child Dental Benefits Schedule (CDBS) is a dental assistance program for eligible children aged 2‐17 years. It provides cover for basic dental services of up to $1000 over a two-year period including examinations, x‐rays, cleaning, fissure sealing, fillings, root canals, extractions and partial dentures.
Orthodontic treatment, cosmetic treatment, mouthguard and any services provided in a hospital operating theatre are not included under the CDBS.
The rebate is available to children whose families receive relevant Australian Government payments. You may have received a Government notification of eligibility but if not, you can check your Medicare online account through MyGov or by contacting the Department of Human Services.  Alternatively, you can can contact one of our friendly staff members at your Core Dental nearest location.
Bulk-billing is available for treatment covered by the CDBS. Should the CDBS balance be unavailable to claim on the day, patient will be required to pay the invoice in full and claim their rebate through Medicare.
Frequently asked questions
We understand parents have many questions about their children's oral health and hygiene. The most common are:
Are your dentists good with kids? Absolutely! All our dentists are gentle and caring, plus we offer the services of a specialist paediatric dentist.
I have an emergency. What should I do? Call us and we'll talk you through it. We'll offer the right advice and will follow up with an appointment if necessary.
How should my child look after their teeth at home? Our dentists and hygienists can show you, step by step and provide all the gear you need.
Will my child need braces? Why not organise a consultation with our specialist orthodontist, who can answer all your questions.
Is (something) normal? Most concerns just require reassurance. Having done a full checkup, your child's dentist can explain solutions for any areas of concern.