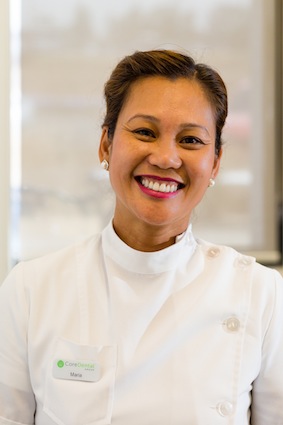 Core Dental are proud of the passionate professionals who take care of your teeth. Highly qualified and committed to your comfort, our team are a varied and fascinating bunch.  Here you will get an insight into Maria Evangelista who's job is to keep your smile looking fresh and perfect.
An insight into Maria Evangelista – Dentist at Core Dental, Wyndham
Q: When did you start with Core Dental?
A: I started with Core Dental in September 2013.
Q: What training did you do to get to this point in your career?
A: I have obtained a Certificate 3 in Dental Assisting.
Q: What do you love about working with Core Dental?
A: I love the caring and friendly staff, as well as the modern surgeries.
Q: What does your ideal day off entail?
A: Shopping, catching up with friends, and dining out.
Q: What is your top tip for teeth that you've learned during your time in dentistry?
A: Don't underestimate the importance of regular maintenance.
You can find Maria at Core Dental Wyndham.